Why Choose Experience NJ Team to Represent you?
You are about to make one of the biggest investments of your life - working with the right agent should be your top priority!
Beginning your home search can be an overwhelming and daunting task. Because of that, our team makes sure that our clients understand each of the steps that we take to make the process as easy and painless as possible. By the end of your search, with our support and guidance, you will love starting your new chapter in your new home!
1. We Know the Market
Our team of sales representatives love real estate, love where we live and know our towns well. It's our mandate to ensure that you're educated and informed on real estate trends throughout your buying experience.
2. We Believe in Straight-Talk
Your happiness is our priority and we intend to earn (and keep) your trust through the entire purchase process. We will keep you informed at all times. When our professional opinion is warranted, you can trust that we will provide it. We will provide honest feedback (we don't sugarcoat!) on a particular property or neighborhood. This will ensure you're well equipped when it comes to making your final purchase decision.
3. We Are Here for You
We aren't just 9 to 5. Call, text or email us anytime. Our goal is to ensure you always get timely responses. While we might not always have the answer at our fingertips, we will let you know that we're on it and will be getting back to you right away.
4. It's Completely Free!
There is no cost to you in working with The Gosselin Group to buy your new home or condo. When you buy a home, the attorneys compensate us by the seller side of the transaction.
5. We'll Negotiate Hard For You
We love negotiating and our track record proves that we are successful in getting our clients the best price and value possible. That's our goal, at all times. Our focus is on you having a great experience and knowing we had your back. We know this, in turn, will create future opportunities for us to work for you and earn your referral business. So your savings today equals a longer term reward for us down the road.
6. You Have a Team at Your Fingertips
Our team of experienced sales, administrative, marketing and client care representatives are all committed to you. From your pre-approval and search process to your accepted offer and moving day (& everything in between), our team is dedicated to working hard for you. Our goal is to make sure you are being supported by the best people, which is why we work with an extensive network of service partners that are devoted to our clients and operate at the same level of excellence and expertise that we do - be it lenders, movers, inspectors, attorneys, etc…
7. We Embrace and leverage Technology
We use only the best in tools and technology to assist with your search process and manage your purchase transaction. We can automate everything for you. Our buyers get instant property search updates and access to listings. Through our paperless systems, our buyers can complete purchase agreements in minutes from anywhere and on any device.
8. You'll have an experience worth talking about
Our job is to help ensure that this process is as easy and seamless as possible for you. We know it can be a stressful time, but with our help, it will be a rewarding one. We will do everything we can to make your experience a positive one. Over 80% of our business is referral-based. That means our clients have had great experiences and recommend us or keep coming back. Our goal is to make sure you feel the exact same way! Need to sell before you buy? We can help. Learn More. (link to seller tab) Have Questions?
Contact us today to schedule a FREE Buyer's Strategy Session to go over what you are looking for and to answer any questions you have.
Excellent Experience!! Betsy and her team are full on professionals - they are knowledge, personable and committed to supporting you. We were buying during a very complex time and Betsy was always there to help us - navigate decisions, remind us of our to-do list and even suggest contractors to help when we needed it. I can't speak highly enough of this whole team (they are a team - you get all the support of the group!) and Betsy. Highly Recommend!!!
Lorie Continelli
They were always there to help us - navigate decisions, remind us of our to-do list and even suggest contractors to help when we needed it. I can't speak highly enough of this whole team (they are a team - you get all the support of the group!). Highly Recommend!!!
West Caldwell
In this seller's market I thought I may try to sell on my own, but that would have been a huge mistake. This team helped sell my home quickly and for top dollar. They also helped me navigate a challenging situation with a buyer. I highly recommend them!
Oak Ridge
I've known Caroline Gosselin for several years through various professional and trade connections. I have referred her to my own clients who have been extremely happy working with her. When it came time to selling our own house, we chose Caroline and her team and I saw first hand what working with them was like. She gave us great tips about preparing the house for sale. She guided us through every step in a calm and confident manner throughout the process. I can't overstate our appreciation for everything Caroline did and the relationship that grew during this adventure. Not to mention the great price and quickness of our sale.
Millburn
Working with The Gosselin Group was an absolute pleasure and we would 100% not have found our dream home without them. In the midst of a crazy covid 16 months, we spent a good amount of time searching for not just any home but the home that was right for our family"
West Orange
It was such a pleasure having her as our realtor. She seamlessly led us through the process of selling our townhouse and she was able to sell it very quickly. Her professionalism and responsiveness was top notch! We highly recommend The Gosselin Group!
Basking Ridge
My partner and I are first time home buyers, leaving NYC during the pandemic. We were referred to Caroline by an old friend who worked with her to buy a home in New Jersey several years ago, and I couldn't be happier with the experience. They're nice people and they are good at what they do. We could not be any happier, but if we had to do it all over again, they'd be the first people that we call.
Orange
Caroline and I have worked on multiple projects together and the thing I noticed most about her and her team is how they put their clients' needs first and foremost above everything else. They truly care about each and every client whether they are buying or selling and she does everything she can to give them top notch service. I have highly recommended her to friends and neighbors for all their real estate needs and will continue to do so in the future. She is an amazing realtor
Vendor
It is a pleasure working with Caroline. She is warm, knowledgeable, professional, and responsive. I have worked with her on highly specialized higher end properties and it was impressive to see how she handled keeping her clients happy, informed, and executed all the moving parts into the right place for a smooth transaction. I would recommend her without hesitation.
Vendor
When we made the decision to sell our home of 15 years, we took a very intentional approach to finding the right agent to represent us. We interviewed four well-respected agents in the community, all of whom were recommended to us by friends or associates. While each had had solid experience and qualifications, Caroline's sophisticated pricing analysis, unique marketing approach, and professional insights stood apart from the others. It was the best decision we ever made. She confidently and calmly guided us through the uncharted waters of listing a house during a pandemic. We had lovingly and painstakingly restored our 1956 MidCentury Modern ranch and were looking for an agent who would capture the uniqueness of our home in order to attract the right buyer. She appreciated the architectural features of our home and conceived a period-appropriate video which highlighted them with expert photography, set to music. The video was viewed across a myriad of platforms. She also arranged a well-attended Facebook Live tour, giving quarantined home shoppers the chance to view the home and ask questions in real time. It was not surprising that she found the perfect buyers within a week. With an offer in hand, she and her team guided us through home inspection remediation, the rigorous bureaucracy of selling, and on to the closing. While she was always open to our input we quickly realized her instincts were spot on. Our friends and neighbors remain impressed with how we were able to successfully navigate this situation, find a buyer and generally make it all look easy. Of course, the reason is that Caroline is a consummate professional. She thinks of everything, and her attention to detail is unparalleled. We could not recommend her more highly and now call her a friend.
South Orange
Caroline sold our home within 3 months - and got top dollar with unfavorable comps. Highest priced home ever sold in our town. So glad we chose The Gosselin Group!
East Hanover
I worked with Caroline and the team to purchase a property in late 2020. Great communication, straightforward advice, and quick action. Looking forward to working together again and highly recommend!
Morristown
We chose Caroline because of her professional previous sales, which was obvious from her website. She was very effective in shaping up the presentability of the home to a wider customer base. Polite, firm, professional, educated and sophisticated.
Millburn
While Caroline came recommended by a trusted friend, we interviewed her and three other well-respected agents in the area. All had solid experience and qualifications but Caroline's sophisticated pricing analysis, unique marketing approach, and professional insights made the decision an easy one for us. Caroline is a consummate professional and we could not recommend her more highly!
South Orange
We've known Caroline for a long time and knew she was an excellent realtor. We had to sell a house at the start of the pandemic. Caroline worked hard to keep the house clean and prospective home buyers safe. Her confidence and business acumen really impressed us. She answered our questions, dealt with problems that came up and delivered on all her promises to us. We are so grateful for her help and guidance throughout the selling process.
Maplewood
"They had their fingers on the pulse of the market so that we were able to jump at the right opportunity when it arrived. They stayed in touch with local selling agents for properties we were interested in so that we were "in the know" all the time. Once we found the house we loved, they were also extremely helpful during negotiations, closing, and after the sale as well when we needed suggestions on contractors. We highly recommend the Gosselin Group for all home buyers!
Maplewood
She is a great team leader, involved in every step.
Maplewood
We interviewed three different agents to quickly decide whom we wanted to work with so that we would not be wasting time to place the house on the market late in the spring market. Caroline did a thorough study of the area including our house beforehand. With her great knowledge of experience and network along with her marketing skill and carefully chosen team she soon came up with a great approach. In reality everything fell into how she described it will happen to us and also we could feel that going along with her plan will definitely bring the right ones for our unique house. Her team members including stager, videographer and photographer each did an exceptional job by telling our story. We sold the house in less than a week with a huge amount of activity. We are truly appreciative and so appreciative that in fact we are about to entrust another property with her again. We would like to thank Caroline and all her team members for coaching us through.
-Maplewood
Caroline provides excellent customer device was clear in her communications and a delight to work with.
Hackettstown
Caroline was professional from start to finish, A-Z! A pleasure to work with and extremely knowledgeable. Exactly what we were looking for and needed in a realtor. She made the entire experience of buying a home, EASY. The seller and his attorney were NOT easy to deal with - and she helped us navigate around and through some challenges, with ease.
South Orange
I am an active real estate investor and developer in the Union County area. Caroline Gosselin has been assisting in the process of analyzing my deals, showing houses and writing up contracts. I would rate her as a stellar performer in being able to quickly analyze potential deals, diligent in contacting selling agents in a timely manner and extremely professional in her dealings throughout the process. Once in a while in business someone comes into your life that simply makes life better...Caroline is that person.
Westfield
This is the second time my husband and I have used Caroline Gosselin I used Caroline to buy our house in Maplewood - no easy task given our relatively minimal budget and the cost of houses in the area - and again when we sold that house. Both times she was attentive, patient and knowledgable. We managed to get a wonderful house the first time around and then sell it for way over asking before the open house! I would recommend her to anyone looking to buy or sell a house in the area.
Maplewood
I have used Caroline's services to purchase and sell a home in South Orange. During both transactions she was extremely knowledgeable, thoughtful, professional, and a great friend. She knows the market well, and was able to predict the best timing for my needs, and the best pricing for my house. When it came down to negotiations, she went above and beyond, and helped me make the right decisions. My attorney was also impressed by her follow-through, and commented to me that, sadly, few agents do her level of work anymore. She is simply the best!
South Orange
Caroline and her staff provide state of the art real estate services that are clearly above the rest of the pack. She has strong expertise with the marketing of homes in many price ranges and geographic areas. Caroline is always willing to go the extra mile to help her clients and people in general. She truly understands what it means to be a go giver! She has been working diligently to help me market a residential property in Caldwell N.J. This 3 family home had been in my family for almost 100 years. Selling this house has required more understanding and hand holding than the average. That is one of the key reasons Caroline has been the perfect fit for me and my family
Caldwell
I have known and worked with Caroline Gosselin for many years. Her expertise as a realtor and her knowledge of the local market have greatly benefitted me as well as my residential clients. She is energetic, passionate about the community, and a true pleasure to work with. Homeowners and prospective homeowners that work with Caroline are getting the finest in terms of service, results and overall experience. I have and will continue to recommend her to my friends, neighbors and clients.
Watchung
I've worked with Caroline Gosselin several times since 2011. Before we met, I had a not-so-positive image of realtors in general, which Caroline quickly and completely reversed. She is a dedicated and hard working professional. She is knowledgeable about the local area and well-informed about all aspects of the home buying and selling process. Caroline is very responsive and offers the personal touch of a small office, but has the resources of a large firm. I highly recommend Caroline for any of your real estate needs.
Bloomfield
Caroline recently helped our company out of a tough spot. We had four rental stores become vacant all at the same time. I'm happy to say that they are currently filled and we have Caroline to thank for that. We couldn't have asked for a better Agent, and we will use her for any future Real Estate needs we may have personally or professionally. Caroline is very committed to giving her clients the best possible service. Our company has been in the community for over 90 years and it's refreshing to use an agent who gives back so much to the community through volunteer service and charitable work. Highly recommend!
Maplewood
I've had the pleasure of working with Caroline personally & professionally. Her knowledge of the real estate market is very impressive. I highly recommend her if you are looking to buy, sell or invest in real estate, she will take you step by step in the process.
Springfield
Caroline is a highly intelligent and professional realtor. We had such a wonderful experience with her in selling our home in which she found not one but two buyers for our home! The original sale of our home however fell thru, the buyer backed out last minute and we lost the purchase of a town home which was contingent on the sale of our home. I emailed Caroline about a month later to say that the town home which we were interested in purchasing was back on the market that we needed to sell our home quick. Caroline was very proactive in sending emails and making phone calls to the homes in our area and scheduled an open house that weekend. Don't you know we received a full price offer within three days and sold our home! I also might add Caroline's follow-up in answering your questions via email or phone calls is amazing! I have recommended Caroline to several friends and family, which by the way Caroline has helped my daughter twice in purchasing a condominium and a home as well as obtaining a renter for her condo. I would highly recommend Caroline if you are looking to sell or purchase a home, she definitely gets the job done quickly, professionally and efficiently! Kudos to Caroline!
Union
The Gosselin Group were amazing to work with as was Sotheby's! Between the time we first met and were under contract was just under two weeks! They go above and beyond to walk you through the whole process and never cut corners. They were professional and very easy to work with. I highly recommend them!
Union
Caroline Gosselin is at the top of her game! After several months of our beautiful home with NYC views sitting on the market with another company and the price going down, down, down, we changed direction and enlisted Caroline to market our home. She came in, took charge, told us what we needed to do to sell the home (nothing major in terms of $$) and then proceeded to roll up her sleeves and oversee the entire process. I didn't need to see a paint swatch, choose a rug, hire a contractor or a handyman- Caroline and her team of specialists (who we loved!) basically did an Extreme Home Makeover in a little more than a week. My husband and I our both in the hospitality and service business and she blew us away with her "Full Service". Our home sold in less than 60 days (with multiple offers, no less!) and we were very happy with the price. Caroline was simply great to work with, she knows the market and what needs to be done to sell a house and we'd full-heartedly recommend her to anyone.
South Orange
Caroline assisted me with providing comparatives to do my refinance additionally she provided support for my entire townhouse community for comparative price analysis for resale and/or refinance. She is very knowledgeable on the market, trends, and staging. When I wanted to purchase my second home in Florida she connected me with a counterpart and made the transition very smoothly. Additionally she is a delight to deal with as she is very smart and aggressive. I will use her to purchase further investments within NJ and call on for any relator matters.
Cranford
I have used Caroline as my realtor on four different occasions over the past five years. She helped me purchase my condo and rent it twice. She also assisted my husband and I in purchasing our first home. In every one of these occasions, Caroline was everything we could have ever wanted in a realtor. She was not only professional, dedicated, and organized; she consistently maintained a high level of integrity and a caring nature. She is always an absolute pleasure to work with and I will continue to recommend her to everyone I know!
Randolph
Caroline was essential in helping us relocate from Florida to New Jersey. We had a very small window to find a home and she went above and beyond, in not only finding us a rental home, but also giving us step by step directions on how to get here once we were in the state of New Jersey. To further explain, we drove up from Florida right after Super Storm Sandy, and things were a bit chaotic on the highways and in town. She always answered her phone or quickly returned our calls to help us reach our destination. This was not required of her job and we truly appreciated the extra mile that she went for us. In addition, she provided us with information about the local schools and other important things in our new community and surrounding areas.We would definitely recommend Caroline to and friends and family and we look forward to doing business with her again. She not only gave great service, but acted also as a friend, and continues to do so.
Maplewood
Working with Caroline has been a pleasure, she helped and encouraged our family through a time consuming search and provided the support needed for us to confidently pursue the property that was right for us.
Maplewood
Caroline and her staff provide state of the art real estate services that are clearly above the rest of the pack. She has strong expertise with the marketing of homes in many price ranges and geographic areas. Caroline is always willing to go the extra mile to help her clients and people in general. She truly understands what it means to be a true go giver!
Bernardsville

Caroline Gosselin quotes in NYT "How to Win a Bidding War".
Read More Here
The New York Times
The Experience NJ Team wins the 2021 "Give Back Award for Best Community Involvement" as well as the "Best Creative Sales & Marketing Support" at the 2021 Metro Builder Association of NJ Awards of Excellence.
Read More Here
Metro Builder Association of NJ Awards of Excellence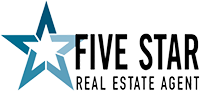 Caroline wins the Five Star Agent award for 9 consecutive years. This is a prestigious award given to only the top 7% of professionals in each market area by the largest and most widely published real estate agent award program in North America.
Five Star Agent

The Experience NJ Team is featured in Forbes.com for How they Navigated the Market when COVID hit.
Read More Here
Forbes

NJ BIZ Names Caroline Gosselin as one of the Top 25 Leading Women Entrepreneurs in NJ in 2019.
Read More Here
NJBIZ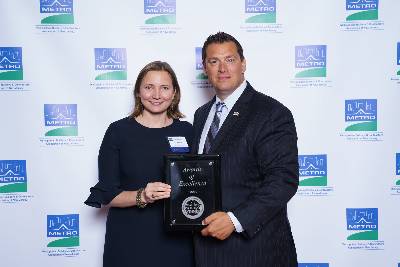 The Experience NJ Team wins the 2019 Award for Best Visual Marketing at the 2019 Metro Builder Association of NJ Awards of Excellence.
Metro Builder Association of NJ Awards of Excellence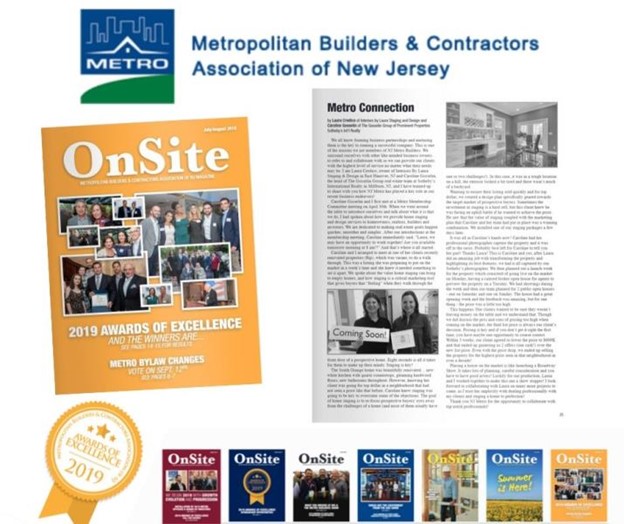 The Experience NJ Team's collaboration with Laura Credico of Interiors By Laura Staging and Design featured this article in the On-Site publication of the Metropolitan Builders & Contractors Association of New Jersey about the "power of staging and how it helps sellers get top dollar."
Read More Here
Metropolitan Builders & Contractors Association of New Jersey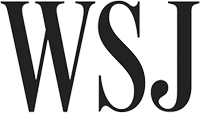 Caroline Gosselin quoted in the Wall Street Journal "Paying the Piper in Maplewood".
Read More Here
Wall Street Journal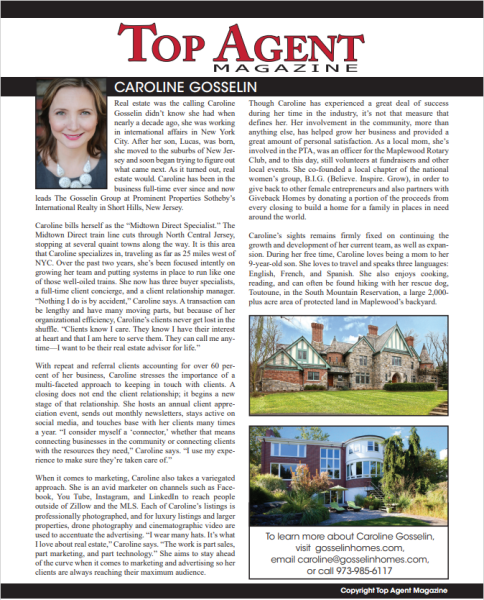 Top Agent Magazine – May 2020 Feature on Realtor Caroline Gosselin.
Read More Here
Top Agent Magazine

Caroline Gosselin quoted in the Star Ledger: "New Jersey Shore real estate market is sizzling during coronavirus crisis."
Read More Here
The Star Ledger
Contact the Gosselin Group