MIDTOWN DIRECT FURNISHED RENTALS in NJ
Posted by Caroline Gosselin on Tuesday, February 28, 2023 at 9:49:30 AM
By Caroline Gosselin / February 28, 2023
Comment
Hello, Welcome to a great resource for FURNISHED LUXURY RENTALS along the Mid-town Direct train line towns of South Orange, Maplewood and Millburn NJ - all a 30-40 train ride from Penn Station in NYC!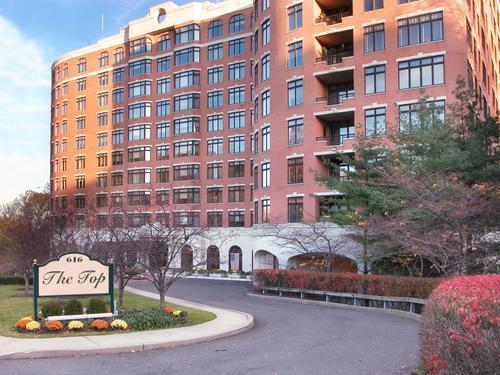 Here you will learn if renting is the right fit for you and get information about Northern NJ and the Midtown Direct Train Line towns.
There are a variety of reasons why some clients prefer to rent instead of buying. These reasons typically range from deciding if they love a specific area to extended stays for business travel.
In an effort to serve our clients during every stage of life, we have created a list of properties that are fully furnished, so all you have to do is unpack! Our mission is to ensure the transition into your new rental space is as seamless and stress free as possible.
Here are the top 3 reasons we have found our clients prefer to rent:
1.) For The Client Who Wants To Try Before They Buy Or Need More Time To Find The Right Home
Make an educated decision on WHERE you'd like to live. Sometimes deciding on where you want to live requires more than a neighborhood tour, more than showings, more than asking friends and family what they like about where they live. Actually living in an area yourself is sometimes needed before you make a huge financial decision like buying a house.
Live like a local in our fully furnished apartment with amazing views of the park. You are now a local, with tips on where to shop, eat, bank, etc. You spend a few weeks or months at this home to get to know the area by shopping at the grocery store, eating at certain restaurants, walking the neighborhood, and enjoying the local parks, activities, and farmer's market. #LiveLikeaLocal
2.) For The Client In The Process Of Simultaneously Selling And Buying Who Might Want A Buffer (Ie. Downsizing Or Upsizing)
Sometimes when you are selling your house, it puts a great deal of stress on you and your family to find a new home in time of your home closing. Well, let us relieve your stress and sit back and relax in our beautifully furnished move-in ready apartment. This amazing apartment is ready for your use for 60, 90 or more days depending on your schedule.
3.) For The Client In Need Of An Executive Rental With The Comforts Of Home 30 Mins From NYC
Coming to New Jersey for a project for work? Need to stay for 30, 60 or 90 days, don't stay in a hotel, stay in our executive rental. Our fully furnished executive apartment is perfect to have your home away from home while you are on business in New Jersey. With a very convenient location close to major highways, train to NYC, close to shops, restaurants, and parks, this is the perfect solution for you.
About the towns along the Midtown Direct train line to NYC
Two Sister Towns: South Orange & Maplewood (AKA SO/MA or MAPSO)
Thirty minutes on the Midtown direct trainline is all it takes you to travel from either South Orange or Maplewood to Midtown Manhattan. Sounds like a commuter's dream? Indeed, it is! (NJ Transit Commuter info: http://www.NJTransit.com)
Newcomers find themselves falling in love with the sense of community and diversity along with walkability to the downtown villages with restaurants, bookshops, and art stores. With awesome schools and extracurricular activities for children K-12, parents are proud to call SO/MA their home because of the growth and diversity of the town which in turn molds their children to be well rounded and ready to take on the world. The Maplewood South Orange school district (which is shared by the two towns) is spectacular. High School students perform well on AP exams and even some students winning Model UN awards. 90 Percent of students that graduate from Columbia High School go on to further their education in college which is a great summary of the village where the thirst for knowledge is abundant.
Do you love the great outdoors? South Mountain features 2,000 acres of wildlife and flora. With fantastic hiking and biking trails and a golf course, SO/MA cannot be beat with all they have to offer. Whether it is learning a new sport or art classes with the local recreation programs, curious and progressive brains fill the community which in turn produce a thriving and welcoming place to live.
Maplewood, NJ:
Maplewood is a Township in Essex County NJ and is home to over 25,000 residents. Dubbed "Brooklyn West" by the New York Times, Maplewood boasts a diverse and community-minded population as many New York City transplants call this their new home. Throughout the township, Maplewood maintains a small-town feel. Citizens enjoy biannual art walks and is home to many community art centers and artists' studios. The artistic nature can be felt even in the most unlikely of places such as in an underground passage leading to the train station, which has been painted with murals and mosaics by local artists and organizations. The residents of Maplewood gravitate towards the bustling downtown because of its many boutiques, shops and restaurants. As we enter the warmer months, citizens often congregate in Memorial Park to enjoy the many amenities it offers as well as the amazing annual events like Maplewoodstock: http://maplewoodstock.com.
Maplewood Township: https://www.maplewoodnj.gov/
South Orange:
This community is home to 16,000 residents and easily separates itself from the small-town suburban stigma that comes with most tree lined streets. Founded in 1904, South Orange was originally part of territory purchased from Lenni Lenape Native Americans back in 1666 by Robert Treat who also founded Newark NJ years before the land acquisition. Known for its marvelous varying architecture styles from Victorian and Tudor homes to Dutch Colonials with gorgeous wrap-around porches and custom-built estates, South Orange has a tremendously diverse pallet of houses for homebuyers to choose from. Throughout the years, many homeowners have maintained and updated their homes without compromising the true integrity of the original designs or curb appeal which sustains the village's elegant and historic charm. Some residents say the village is a fusion of New England charm mixed with the fashion and hustle and bustle of the New York city commuters and view from the top of the mountain.
Millburn:
Millburn Township is a beautiful residential community located in the southwest corner of Essex County. The Township is easy to reach via the midtown direct line of New Jersey Transit, the Garden State Parkway, New Jersey Turnpike, and is also convenient to Routes 24 and 78. The Township offers a wide variety of recreation programs, including a community pool and a par 3 golf course, making the community appealing for families. In addition, Millburn Township has many fine restaurants, a movie theater, the Hilton Short Hills, and a wide variety of cultural events, including the renowned Paper Mill Playhouse and the Cora Hartshorn Arboretum and Bird Sanctuary. Millburn Township is unique in that it offers upscale, high-end, 5th avenue shopping along with quaint small town shopping of a traditional downtown. The Mall at Short Hills, located on the western side of the Township, is a beautiful regional shopping center in which many fine shops and stores are located. The downtown and local shopping areas offer a variety of unique specialty shops, service-based businesses, and professional offices. The present population of the Millburn-Short Hills area is approximately 20,130. Millburn Township is a full-service community where most residents live in single family homes. Millburn is comprised of the historic Wyoming district, and South Mountain and Millburn Center areas. Short Hills contains the sections of Knollwood, Glenwood, Brookhaven, Country Club, Merrywood, Deerfield-Crossroads, Mountaintop, White Oak Ridge, and Old Short Hills Estates.
Millburn Township: www.twp.millburn.nj.us/ and www.millburn.org/
Outdoor Recreation: hartshornarboretum.org and Greenwoodgardens.org
Currently Available Rentals:
Furnished Rental at The Top in Maplewood. All details here: www.TheTopinSOMA.com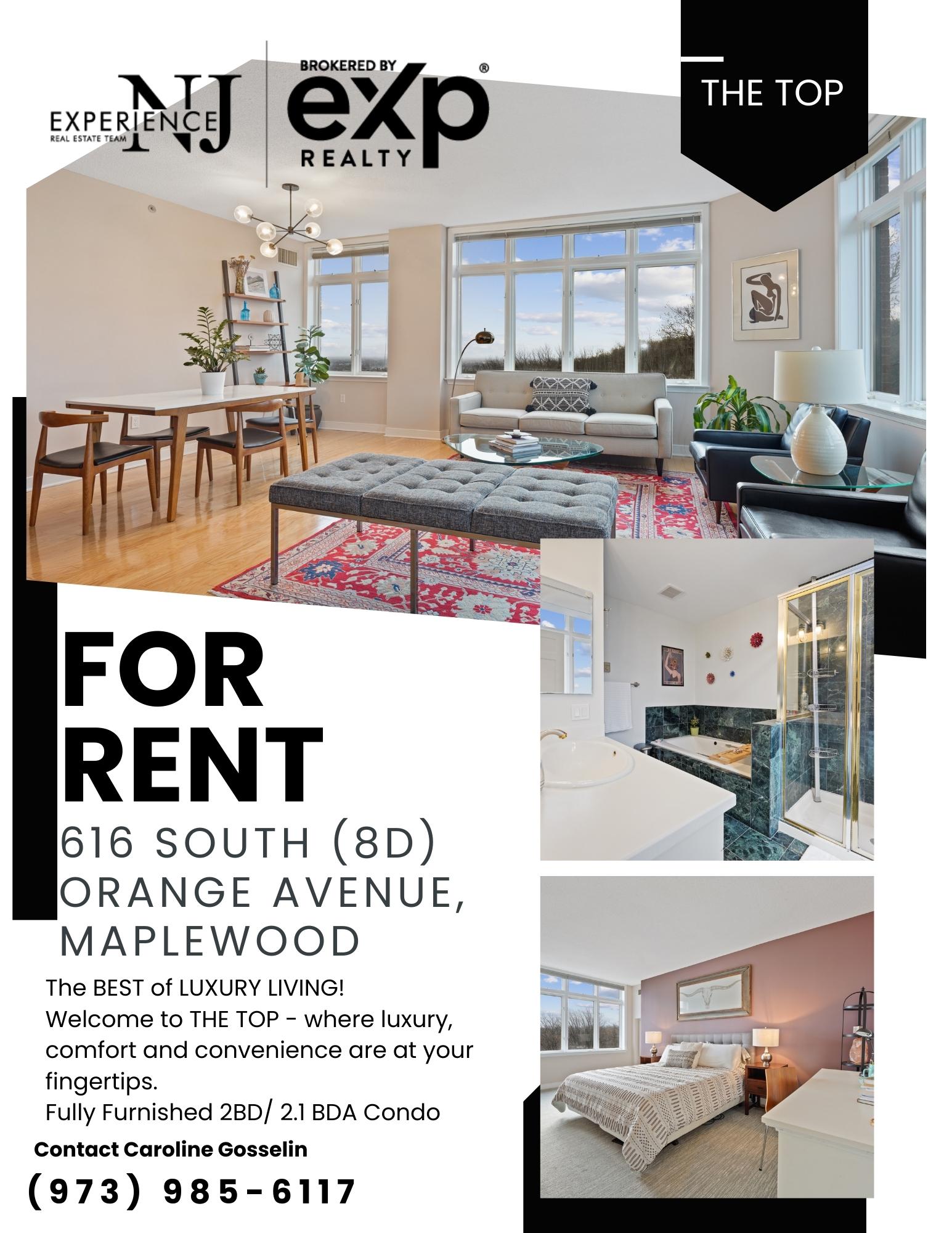 A few other options can be found here: https://emailrpt.gsmls.com/public/show_public_report_rpt.do?emailsite=Y&report=clientfull&Id=248913056_384777
Contact Caroline Gosselin with any questions! Cell: (973) 985-6117 or [email protected]