Christopher Moccia
Realtor®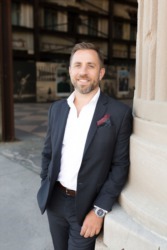 Chris Moccia joined our team in 2020 as a licensed salesperson with two decades of selling experience under his belt.  It was always his dream to help clients buy and sell houses in his hometown of South Orange, and the surrounding neighborhoods.
Previously based in New York City, his previous roles as a National Sales Manager and his successful career in the design and manufacturing industry have helped pave the way for a successful career in Real Estate.
With all the changes happening in the world, a daughter who started college at Elon University this year, a son at South Orange Middle School, and a toddler, Chris decided it was time to make the move back to SOMA three years ago, and never looked back!
Chris is an active participant in his community as a member of the Soma Fox Running Club, sits on the Community Relations Committee of the South Orange Community Board, is an active member of both the SOMA Chamber of Commerce and the Executive's Association of New Jersey.
Having grown up in South Orange and having children that went through, and are still in the public school system, having bought and sold multiple properties of his own in South Orange, and having assisted with the sale of 15 (so far!) homes in the area in 2021 alone, he's a bit of a local expert and welcomes the challenge of helping to understand your needs and assist you in the purchase or sale of your home.