Habitat for Humanity
We Are Proud of Our Ongoing Partnership With Habitat for Humanity As a Corporate Sponsor. Our team is committed to creating social change by helping build homes for families in need. A portion of EVERY home we sell goes towards a local build project with Habitat of Greater Newark every year.
See our interview with Jeffrey Farrell, Chief Executive Officer, of Habitat for Greater Newark below:
It's Important to Give Back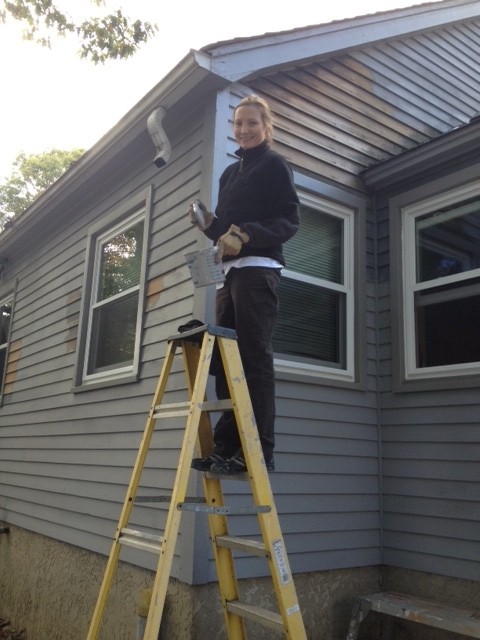 When you choose to partner with The Gosselin Group, a portion of the proceeds from every closing goes to build a home for a family in need - not only in the U.S., but all across the world.
Why We Give Back
Being in real estate, I appreciate seeing the joy on my clients' faces when they close on their dream property. That's one of the reasons I love what I do – helping families put down roots and move on to new phases in their lives.
Being part of a charity that helps a family-in-need experience that same joy, is something that our team is proud. Habitat for Humanity has inspired us to make a commitment to help families by funding and helping motivate volunteer homebuilders to create safe, inviting homes for some who have never known that before. Read more about what inspired us here.
---
Our Past Build Projects
2016
In 2016 our team contributed to Haiti Relief to help with the direct aftermath of Hurricane Matthew though the Give Back Homes organization.
2017
A portion of all of our 2017 sales went to build projects in the U.S. through the Give Back Homes General Fund.
2018
A portion of all of our 2018 sales went to build projects in the U.S. through the Give Back Homes General Fund.
2019
A portion of all of our 2019 sales went to build projects in Essex County, New Jersey through our Corporate Sponsorship of Habitat for Humanity Greater Newark Chapter and our team's hands-on build days.
2020
Every year, a portion of each of our sales goes towards critical build projects with Habitat of Greater Newark. Please consider helping support our Essex, Hudson & Union County Communities by donating to Habitat of Greater Newark by clicking the red donate button below. Their advocacy and efforts truly change lives.
March 6, 2019 - Critical Repairs in Newark
I am so proud of our team who spent the day doing critical repairs for apartment units in a Newark apartment building which had to be gutted due to extensive damage from burst pipes which froze during the winter. Check out the video!
Essex County Projects Done!
Proud of our team who spent several hands-on volunteer days over the past year contributing to the framing, sheet-rocking and doing electrical work on both of these homes!
Want to Volunteer for Our Next Build Day?!
Email Caroline using the address below to sign up! No experience needed!
See photos from our March 2019 Build Day doing critical repairs in Newark, NJ below!
The Gosselin Group partnered with B.I.G to help finish up a build in Livingston, NJ . We helped put up sheetrock, sand, and spackle. This house is going to be ready for the new family to move in before Christmas! We were so glad to be a part of it !
See photos below!